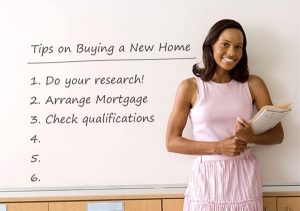 Home buying is an important personal decision and a big financial investment. You want to find the home that's right for you and the builder who provides the best value and service. Here are some tips to help make the buying process enjoyable and successful.
Do your research – Know what you want, what's available and how the buying process works before you start thinking seriously about signing a contract. Browse through newspapers and magazines. Consult with family, friends and co-workers. Attend a seminar for first-time home buyers. Check the Internet. Visit model homes.
Pre-arrange your mortgage – If you are like most of us, you will borrow funds to finance your home purchase. Talk to your lender about mortgages early in the process. Knowing in advance how much you can spend comfortably and getting pre-approval for a mortgage means you can proceed from "just looking" to a signed contract with confidence.
Check the builder's qualifications – There are many reputable builders who provide exceptional service and build great homes – both lowrise and highrise. As you talk with builders, ask questions: How long has the company been in business? Is it a member of the local home builders association? Will the builder give you references of previous new home projects? What after-sales service is offered? Does the builder offer an independent third-party warranty and, if so, what does it cover? "Personal fit" is also important: Does the builder or salesperson listen to you, understand your needs, and offer useful advice?
Check the home carefully – Whether a builder has a model home, a sales office or sells directly from plans, you'll have an opportunity to look closely at the quality of the home and what's included. The builder's specifications list will detail the construction materials and finishing products. Ask to see a description and samples of the standard features included in the base price of the house, along with the description and cost of options the builder offers. When viewing a model home, don't hesitate to try out windows, open drawers, look into every nook and cranny, and inspect the home's mechanical system.
Understand the total cost of buying – Get detailed prices and estimates on everything involved in buying a home. Your builder and lender can advise you on the costs of securing a mortgage, taxes and so on. Ask your lawyer to give you a detailed breakdown of closing costs. Call movers for estimates. Determine if you need to buy new appliance, window coverings or furnishings.
Consult with a lawyer – Before you hire a lawyer, it's a good idea to ask for a detailed estimate of fees for service.
Be realistic – Quality, solidity, good products, service – these are the things that add up to real value for the long term. Your objective is to find the home that provides the best overall value within your budget. A professional builder will work with you to find the right balance of features that will work well for you.